Latest News
Success!
£4,000 raised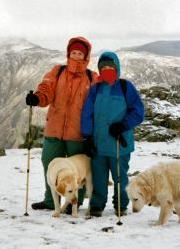 Kathie & Mike - Scafell Pike - Oct 2002
Yes - the dogs are coming too!

3 Peaks - 6 Beales - 24 Hours
On the 28th/29th June 2003, all six members of the Beales family will be attempting to climb all three of the highest mountains in Scotland, England and Wales within 24 hours.
Ben Nevis - Scafell Pike - Snowdon
9,700 feet ascent - 22 miles walking - 470 miles driving
The team consists of Mum, Dad and 4 sons, with ages ranging from the wrong side of 50 down to 14. This three peaks challenge will push us to our limits - maybe beyond for some team members - but we promise to give it our best shot!
Why are we doing it? - To help fund Christie's cancer research. Sooner or later cancer affects almost all of us, whether as sufferers or through friends or family. Christie's research offers real hope for the future.
Click here to read more about our challenge